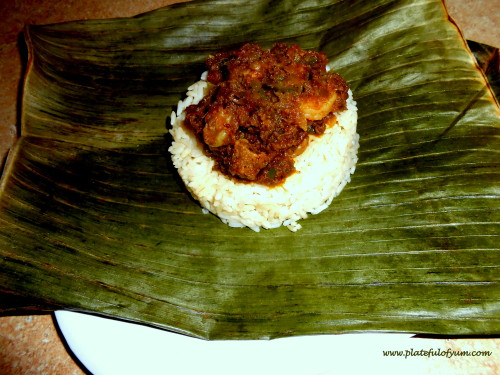 This is by far, one of my favorite Nigerian stews.  However, it has one ingredient which is crucial to its unique flavor that I'm not too fond of. The culprit in question, is palm oil. I never use palm oil to cook anything, except for this stew.  The reason being that it is high in saturated fats. Did you know that a cup of palm oil contains a little over 1900 calories,  107 g of saturated fat, and 218 g of total fat? Yeah that's a ton.  Saturated fats have been shown to raise total blood cholesterol levels and 'bad cholesterol' low-density lipoprotein (LDL) cholesterol levels, which can increase your risk of cardiovascular disease. Considering that most people use more than a cup of palm oil in their recipe is a cause for concern.
In order to preserve the unique flavor, I still kept the palm oil but I used a lesser amount, and added some canola oil to balance it out. This gives you more yum, without the guilt, because its healthier for you.
Servings: 18, Serving Size: ¼ cup
Calories:  200.8, Protein: 11.88 g, Carbohydrate: 3.72 g Fat, Total: 15.9 g, Saturated Fat: 4.22 g, Sodium: 137.0 mg, Potassium: 208.0 mg, Calcium: 24.6 mg, Fiber: 1.16 g
 Ingredients:
4 large green bell peppers (tatase)
4 habanero peppers (ata rodo)
1 medium white onion (red onion, also works)
1 lb of cooked assorted meat (This can be a combo of beef, goat, beef tripe, etc. I used chicken gizzard and beef)
 6 oz cooked shrimp
3 tbsp crayfish, ground
1 tsp garlic paste
1 tsp beef bouillon  
1 tbsp locust beans (iru)
1/2  cup palm oil
1/3 cup canola oil 
Directions:
If your meat hasn't been cooked before hand, just combine the meats, (with the exception of the shrimp) and season with 2-3 diced garlic cloves, 1 tsp thyme, 2 beef bouillon cubes, 1 chopped red onion. Add 3 to 4 cups of water and cook over medium-high heat until tender.
Next, you will want to blend your onion, green peppers, and habanero peppers. You DO NOT want it smooth. You want it chunky.
Pour the blended mixture through a sieve to remove the excess water (there will be lots of it), you want it to be as dry as possible. You can use a spoon to 'smoosh' the pepper, so as to strain the excess liquid through.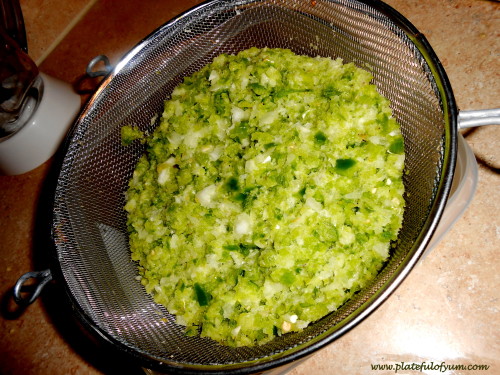 Once this is done, take ½ cup of palm oil, and pour in a small pot on medium heat. You want to 'bleach' the palm oil, until it turns a yellowish, almost clear color. This will take 10 to 12 minutes. Make sure you pay attention to it while it is bleaching, and leave your vent turned on.
While your palm oil is bleaching, transfer your pepper mixture unto a lined aluminum foil pan and place in the oven to broil for 7 to 9 minutes (you want to keep close watch to make sure it doesn't start to burn).
When the palm oil is bleached, put the heat on low, and remove temporarily from the burner to cool down the oil a bit.
In a large pot, heat the canola oil on medium-high heat. Once the oil gets hot, add the garlic, crayfish, locust beans, bouillon and shrimp, stir. After about 3 minutes, add in the peppers, stirring occasionally. Let it cook for about 10 minutes, and then add your palm oil, and lastly the meat.
Mix the meat with the peppers and the oil until completely coated and let cook for another 10 minutes.
You can serve Ayamase with rice, plantain or both. Enjoy!