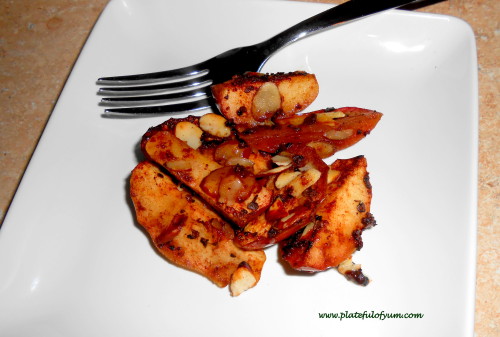 Servings: 6, Serving Size: 1/6th of apples
Calories:  190.5, Protein: 1.95 g, Carbohydrate: 18 g, Fat: 13.6 g, Fiber: 3.47 g, Sugar: 12.8 g
Ingredients:
4 red delicious apples, chopped
1 tbsp allspice
½ tsp ginger
1 tsp cinnamon
1/3 cup butter unsalted, melted
2 tbsp brown sugar
1/3 cup almonds
Directions:
Preheat oven to 450 degrees F
Combine all spice, ginger, cinnamon and brown sugar in a small bowl. Set aside.
Rinse apples, pat dry and cut into chunks before placing in a baking dish.
Sprinkle apples with the spice mix, then top with walnuts.
Pour the melted butter over the apples, and bake for 20 minutes.
You can eat apples as is, or with a scoop of ice-cream for an extra yummy treat.