Imagine coleslaw, but not quite. This is a 'funky' salad. Funky because leafy greens are typically used for traditional salads, and the combination of colors is quite stunning.
Servings: 1
Calories:194.3, Protein:12.0 g, Carbohydrate:16.3 g, Fat: 9.49 g, Sodium: 533 mg,Fiber: 2.61 g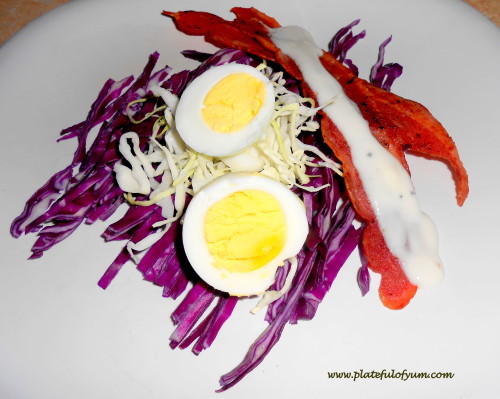 Ingredients:
1/4 cup green cabbage, shredded
1 ½ cup red cabbage, shredded
1 boiled egg
2 strips of turkey bacon
2 tbsp of fat-free blue cheese dressing
Directions:
Cook your turkey bacon in a frying pan on medium heat until tender crisp.  In a separate pot, boil your egg until well done.
Combine the cabbage, and garnish with split boiled egg on top, add the turkey bacon on the side, and top with 2 tbsp of blue cheese dressing.
For an extra 'kick' you can sprinkle some blue cheese crumbles on top.