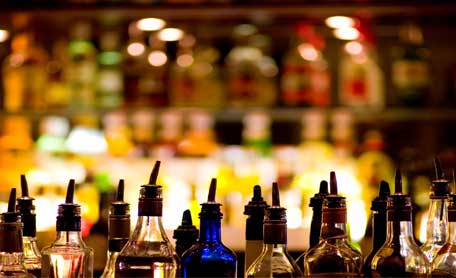 Alcohol contains 7 calories per gram which is quite a lot considering that protein and carbohydrates only pack 4 calories per gram. When you take into consideration that most mixed cocktails contain juice, soda, or both, the calories add up fast.
What is a serving of alcohol?
A standard alcoholic drink is one that contains 0.6 fluid ounces or 14 grams of "pure" alcohol. This equates to:
5 ounces of table wine

12 ounces of a beer or wine cooler

1.5 ounces of 80 proof distilled spirits such as gin, whiskey, or vodka

 8 ounces of malt liquor
If you choose to drink alcohol you should do so in moderation. This means no more than 2 drinks a day for men, and one drink per day for women.  Anything over moderate consumption can be detrimental to your health. According to the American Cancer Society (ACS), evidence shows that drinking alcohol increases the risk of liver, colon, rectal, breast, and esophageal cancers. 
The list below depicts the average amounts of calories found in common alcoholic drinks: