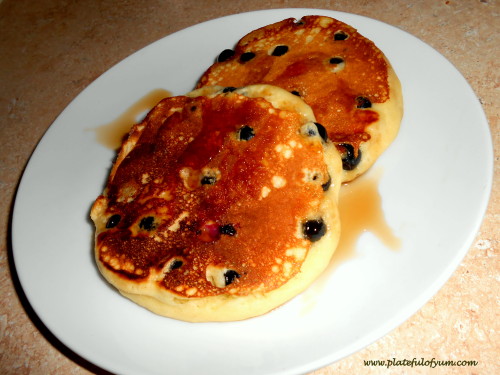 Servings: 6, Serving Size: 1 pancake
Calories:  195, Protein: 4.14 g, Carbohydrate: 28.7 g, Fat, total: 7.23 g,  Saturated Fat: 19.8 mg,  Sodium: 349.0 mg 
Ingredients:
1 cup all-purpose flour
1 egg
1 tsp baking powder
½ tsp baking soda
¼ tsp salt           
1 cup buttermilk
¼ cup sugar
¼ cup butter, melted
¾ cup blueberries
Directions:
If you do not have buttermilk on hand, relax, you can make your own.  Add 1.5 tbsp of white vinegar into a 1 cup measuring cup. Fill the measuring cup with milk-you can use whole milk but I prefer low fat or skim (less fat, and less calories). Stir gently to evenly distribute the vinegar, throughout the milk.  Let it sit for 5 minutes, giving it time to coagulate slightly.
In a large bowl, combine the flour, salt, baking powder, baking soda, and sugar. Mix together using a spatula.
In another bowl, mix together egg, buttermilk and melted butter. (Try not to over mix). Pour this into the flour mixture, distributing evenly with the help of a spatula until thoroughly combined.
Spray a skillet with cooking spray, and place on low-medium heat. 
Use a 1/2 cup to scoop the batter unto the griddle. Next, take a handful of the blueberries and drop them individually on top of the batter. (This is the absolute best way to make blueberry pancakes because the blueberries stand out and look incredibly juicy. Also when you flip the pancake over, they gain direct contact with the skillet, and get an even distribution of heat).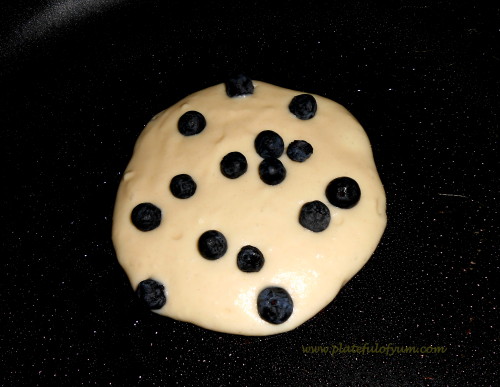 After about 2-3 minutes, when the edges, start getting brown, flip the pancake over for an additional minute.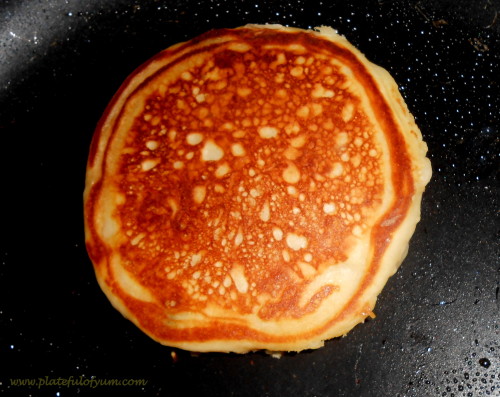 Serve hot with light syrup/whipped cream.