Servings: 6, Serving Size:  2 Strawberries 
Ingredients
A dozen strawberries
2/3 cup of shredded coconut
¾ cup of white chocolate chips
1 cup of milk chocolate chips
A dozen toothpicks
A Styrofoam base
Directions:
Wash the strawberries and dry them thoroughly. You can set on a cooling rack to make sure they are completely dry before use.
 Place the milk chocolate and white chocolate in a microwave-safe bowl and microwave until it is melted, stirring after every 30 seconds. Overheated chocolate gets thick and hard to work with, you might need to add a little vegetable shortening to thin it out and make it more smooth if this occurs.
 Insert a toothpick into the middle of the strawberry to help with handling.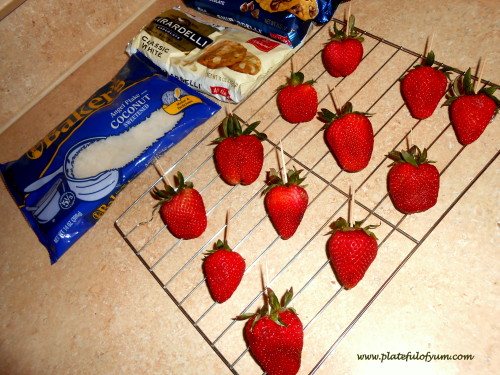 Put a few tablespoons of each chocolate into two Ziploc bags, (or a piping bag) press the chocolate all the way down,  make a little snip at the corner and save it for later use.
Holding a strawberry by the toothpick, pull the leaves back so that they don't get chocolate on them, dip it in chocolate, twirling it in a circular motion to evenly cover most of the berry. Twirl as you lift it from the chocolate it so that any excess chocolate drips back into the bowl.
After this, make designs using the piping chocolate of your choice. Prop the strawberries in the Styrofoam base .
 Also, you can tap the chocolate strawberries in the coconut before piping. However, make sure not to press it all the way in.
 Once all of the berries are dipped, refrigerate them for 30 minutes to set the chocolate.