This is definitely one of my favorite quick bread recipes.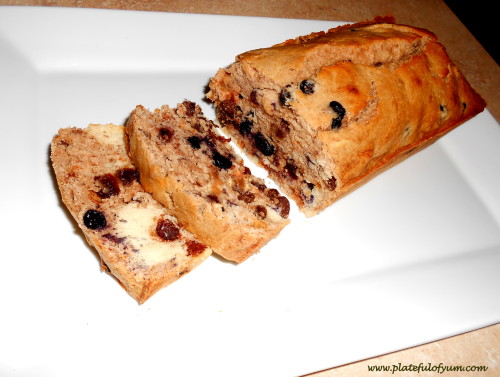 Servings: 14, Serving Size: 1 slice of bread
Calories: 195.8, Protein: 3.09 g, Carbohydrate: 33.4 g, Fat: 6.06 g, Cholesterol: 16.0 mg, Sodium: 117.9 mg, Sugar: 18.3 g 
Ingredients:
2 cups All purpose flour
3/4 cup granulated sugar
1/4 cup granulated sugar
½ tsp salt
1 tsp baking powder
½ cup raisins
½ cup blueberries
2 tsp cinnamon, ground
½ tsp ginger
1 egg
1 cup milk, skim or low fat
1/3 cup of cooking oil
Directions:
Pre-heat the oven to 350 degrees F. Grease a 9×5 inch loaf pan using cooking spray.
In a small bowl, combine 1/4 cup sugar, raisins, blueberries, cinnamon and ginger. Mix together so that there aren't any clumps. Set aside.
 In a large bowl, combine the flour, 3/4 cup of sugar, salt and baking powder. Mix these ingredients together. 
 In a third bowl, whisk together the egg, milk and cooking oil. Make a well in the flour, and pour in the egg mixture. Stir together until just combined. The batter should be slightly lumpy.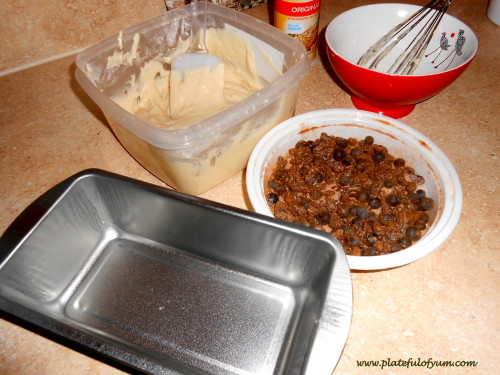 Pour half the batter in the pan and then layer half of the blueberry raisin mixture on top, Pour the remaining layer of batter, and the rest of the blueberry raisin mixture (try to spread this evenly on top). 
Use a spatula to make a swirling figure 8 motion, into the batter so as to distribute the raisins and blueberry evenly.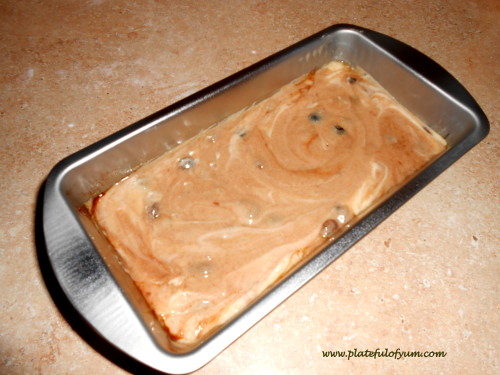 Place the batter in the oven to bake for 50 minutes. The bread is done when the top of the bread is firm to the touch and a tooth pick inserted into the center comes out clean.
Let the bread cool in the pan on a rack for 30 minutes. Afterwards, turn the loaf out onto the rack and let cool completely before slicing.