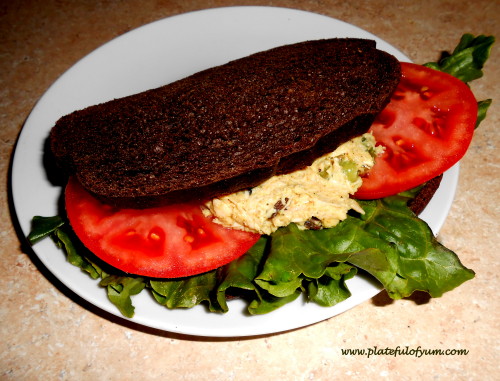 This is definitely not your average chicken salad. It's an exotic twist to the classic chicken salad recipe.
Servings: 5, Serving Size: ¼ cup
Calories: 111.9, Protein: 8.04 g, Carbohydrate: 8.68 g, Fat: 4.83 g, Potassium: 170.0 mg, Sodium: 114.9 mg
Ingredients:
1.5 ounces raisins
1 celery stalk (chopped)
2 tsp curry powder
4 oz chicken breast (shredded or diced)
4 tbsp reduced fat mayonnaise
¼ tsp sugar
½ tsp black pepper
Directions:
Combine all the ingredients in a small bowl. Add the mayonnaise last and gently fold the chicken until completely coated.
Refrigerate until chilled.
Serve with lettuce, tomatoes and your favorite bread. Pictured here with Pumpernickel bread.