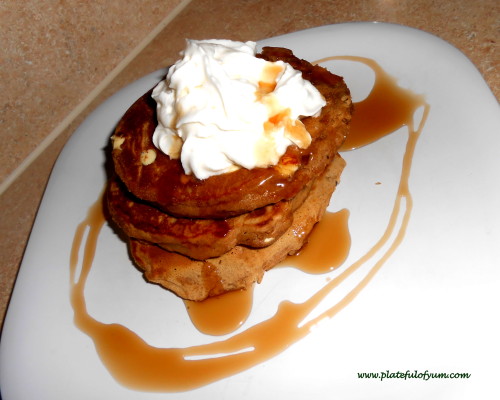 This is absolutely divine and extremely filling. Definitely an indulgent treat to be had every once in a while. 
Servings: 6, Serving Size: 1 pancake
Calories:  270, Protein: 5.7 g, Carbohydrate: 33.7 g, Fat: 13.1 g, Saturated Fat: 6.39 mg, Sodium: 230.0 mg
Ingredients: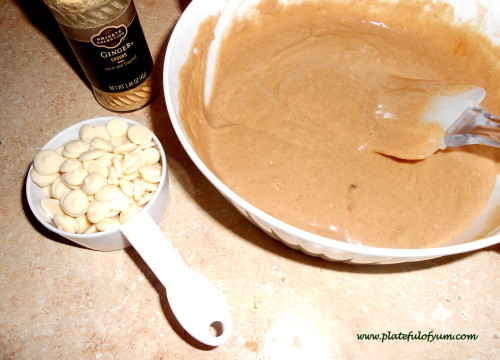 1 cup all-purpose flour
1 egg
1 tsp baking powder
½ tsp baking soda           
1 cup reduced fat buttermilk
¼ cup brown sugar
¼ cup butter, melted
2 tbsp ginger powder
1 tsp cinnamon, ground
1 tsp vanilla extract
1/3 cup white-chocolate chips
 Directions:
If you do not have buttermilk on hand, relax, you can make your own.  Add 1.5 tbsp of white vinegar into a 1 cup measuring cup. Fill the measuring cup with milk-you can use whole milk but I prefer low fat or skim milk (less fat, and less calories). Stir gently to evenly distribute the vinegar throughout the milk.  Let it sit for 5 minutes, giving it time to coagulate slightly.
In a large bowl, combine the flour, baking powder, baking soda, cinnamon, ginger and sugar. Mix together using a spatula.
In another bowl, mix together egg, buttermilk, vanilla extract and melted butter. (Try not to over mix). Pour this into the flour mixture, distributing evenly with the help of a spatula until thoroughly combined. Next, mix in the chocolate chips into the batter.
Spray a skillet with cooking spray, and place on low-medium heat.  Use a 1/2 cup to scoop the batter unto the skillet.
After about 2-3 minutes, when the edges, start getting brown, flip the pancake over for an additional minute.
Serve hot with light syrup/whipped cream.