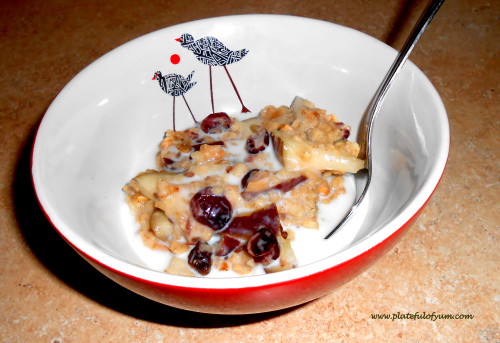 I love Cascadian Farm's fruit and nut granola mix because it contains organic whole grain oats, crisp rice, raisins, cranberries, sunflower seeds and almonds. You can substitute it with another granola mix of your preference.
Servings: 2, Serving Size: 1 cup
Calories: 350, Protein: 8 g, Carbohydrate: 69.5 g, Fat: 5.25 g, Sodium: 192.5 mg, Fiber: 5 g
Ingredients: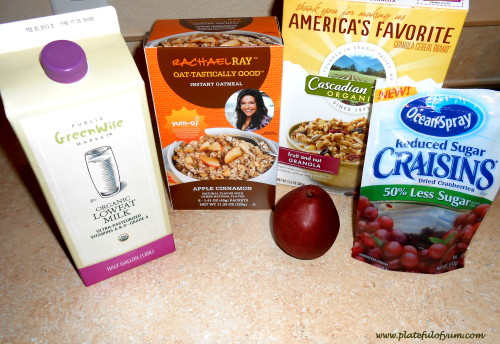 1 cup low-fat or skim milk 
1 packet Rachel Ray Apple Cinnamon Instant oatmeal 
3/4 cup Cascadian Farm fruit and nut granola mix
1/4 cup Craisins
1 red Anjou pear 
Directions:
On Low medium heat, cook chopped Anjou pears in a shallow pan, with ½ cup of water for until the pears begin to soften. Add in the instant oatmeal and an additional ½ cup of water, letting them cook together for 5 minutes.
Add in the Craisins, granola mix, and then top with skim milk. Mix together. Turn off the heat and serve.