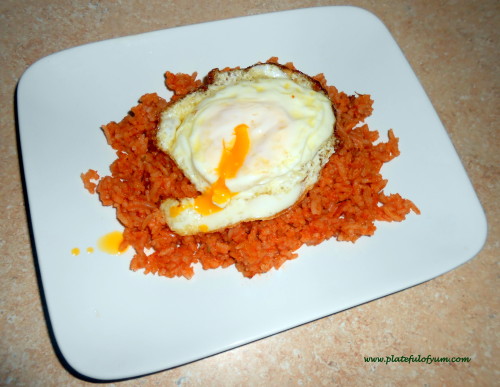 This jollof rice method is really SUPER easy. All you have to do is combine the ingredients in your rice cooker, and that's it.
Servings: 8 Serving Size: 2/3 cup
Calories: 182, Protein: 3.48 g, Carbohydrate: 33.7 g Fat: 3.75 g Sodium: 516.1 mg
Ingredients: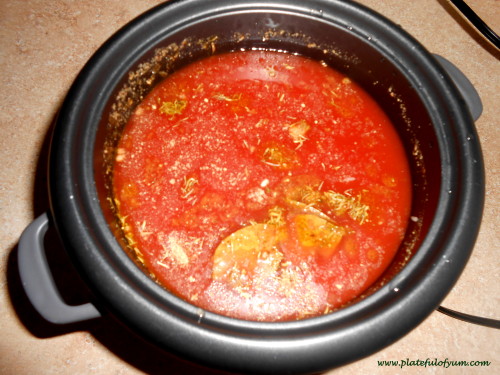 2 cups rice (I used jasmine rice for mine)*
8 oz tomato sauce, low sodium
1/3 cup diced onions
1/2 tsp garlic powder
14 oz chicken stock OR broth, low sodium
1 tsp thyme
4 bay leaves
2 tbsp olive oil
2 bouillon cubes
1 tsp curry powder
1 tsp salt
1 ½ tsp chili powder (optional)
Directions:
Wash the rice at least three times. Strain excess liquid.
Combine the rice and remaining ingredients in a rice cooker. Mix with a spoon to distribute the spices evenly. It will take about 30-35 minutes to cook.However, gently stir rice halfway into cooking time.
Serve with your choice of protein and/or vegetables.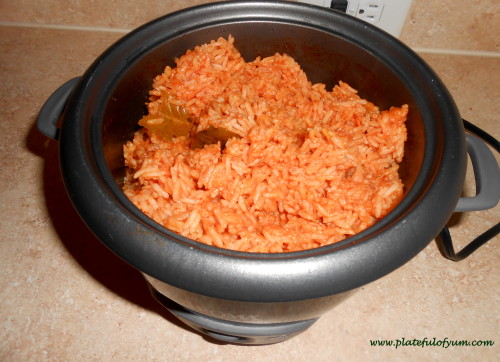 * Parboiled long grain rice is the kind of rice typically used  to make Jollof. Parboiled rice works really well when substituted for Jasmine rice in this recipe. You can be really creative and choose different kinds of rice for your jollof such as brown rice, basmati rice, etc. Keep in mind however, that the cooking time is a bit longer (about 40 minutes) when using parboiled long grain rice.
Pictured below is jollof rice made with parboiled long grain rice. It is served with oysters and green onions.