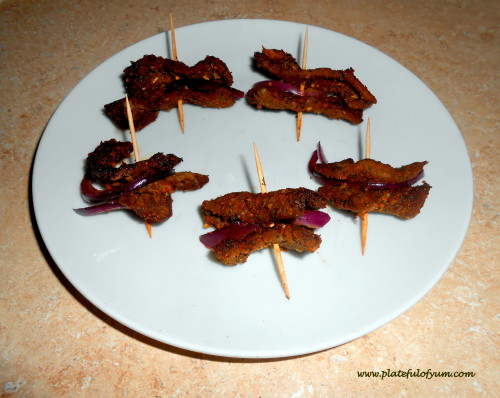 Suya is a spicy Nigerian Shish Kebab. The spices used to season Suya vary from vendor to vendor, and one of the reasons it is so popular aside from its deliciousness is that the spices used to give it its wonderful distinct flavor, remains a mystery.   
Suya spice is sold on the market, but the ingredients in the concoction are never divulged. With a lot of taste testing, and brain storming, I came up with my own blend of seasonings that closely replicate that used by the traditional Suya masters back home.
Serving Size: 4 pieces of meat, Servings: 7
Calories:  150.3, Protein: 15.3 g,  Carbohydrate: 3.37 g, Fat: 8.48 g, Sodium: 293.6 g
Ingredients:
1 tbsp cayenne pepper, ground
1 tbsp paprika, ground
1 tsp sage, ground
1 tsp cumin, ground
1 tsp curry powder
2 tsp beef bouillon powder (I used knorr)
2 tsp basil, ground
1 tsp garlic powder
¼ cup peanuts, crushed
1 lb thin sliced sirloin (about 28 chunks)
½ cup red onion, thinly sliced
Directions:
Pre-heat oven to 375 degrees F.
In a small bowl, combine all the ingredients (with the exception of the red onion and beef) until well mixed.
Dip the sliced beef chunks into the spice mix until completely covered on both sides.

Spray a baking dish/pan with cooking spray, and arrange the spice coated beef in the dish. Cover with aluminum foil, and place in the oven for 25 minutes.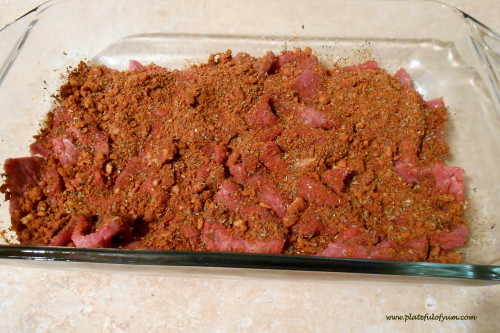 After 25 minutes, add the sliced red onions and place back in the oven for an additional 5 to 8 minutes (or until well done).
Serve Suya as is, or on skewers/ toothpicks.