Chin Chin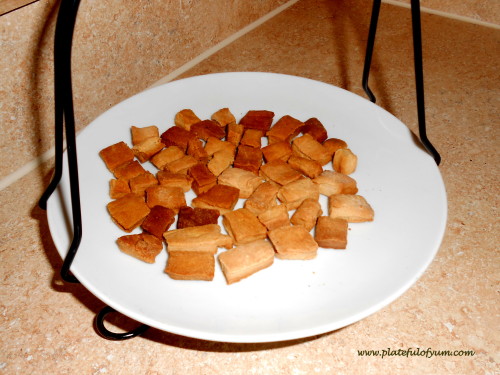 (Baked)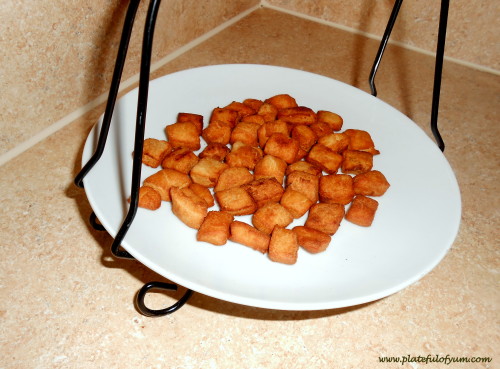 (Fried)
Chin Chin is a very popular Nigerian snack which falls into the "small chops" category. (Small chops meaning it can be served as an appetizer). It is made by deep-frying dough until golden brown and crunchy.
I try to stay away from fried foods as much as I can, and so I thought to BAKE the chin chin instead of deep-frying it. I've never heard of anyone bake chin chin before, but there's a first time for everything, right?
I actually made 2 batches, one baked, and the other deep-fried to determine which I liked better. The baked one won me over, hands down. It has a 'cleaner' mouth feel, and it actually turned out to be crunchier than its fried counterpart.
I challenge you to try the baked version; you won't hurt my feelings if you decide to go with the fried version. I promise I won't judge *wink*
Servings: 6,  Serving Size: ½ cup
Calories:  291, Protein: 5.09 g, Carbohydrate: 50.0 g, Fat: 7.74 g, Sodium: 130.9 mg,Fiber: 1.69 g 
Ingredients:
½ cup sugar
1 tsp nutmeg, ground
2 tsp ginger, ground
2 tsp cinnamon, ground
½ cup light butter, melted
2 cups of all-purpose flour
½ cup of low-fat milk (1%)
Directions:
Preheat your oven to 400 degrees F.
Measure out the flour and pour in a medium-sized bowl.
In a separate bowl, combine the sugar, nutmeg, ginger and cinnamon. Whisk until evenly combined.
Pour the liquid mixture into flour, mixing with a spatula until your dough is formed (it will be really sticky).
Sprinkle some flour on a flat work surface, and knead your dough. (You may have to sprinkle some flour on the dough so it is easier to work with but do not overdo it).
Roll your dough out flat, and cut into strips, length wise and across, forming square chips (It's okay if it is not precise, rectangle shaped chips are quite okay).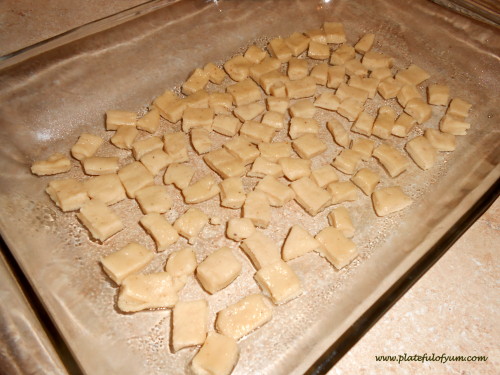 Spray a baking dish/pan with cooking spray. Arrange the chips of dough in the pan and set in the oven for 35 minutes (or until golden brown and crunchy).
Remove from oven, and let cool before eating.
If you would like to try the fried method, after the chips are formed, deep fry in hot vegetable oil.  Either way, enjoy this traditional Nigerian snack.