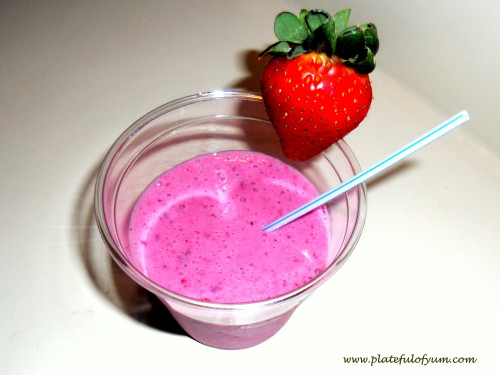 Servings: 2 , Serving Size: 1 cup
Calories: 93, Protein: 7.0 g, Carbohydrate: 18.5 g, Calcium: 270 mg, Sodium:107 mg
Ingredients:
6 oz non-fat, plain, Greek yogurt
1/2 c strawberries
1/2 c  frozen berries (blueberries, raspberries, black berries) – you may use fresh berries
 1 cup skim milk
1 packet of Non-Caloric sweetener of choice ex. Splenda (Optional)
Directions:
Combine all the ingredients in a blender and blend until smooth.
If you desire a thicker consistency, you can add a little more yogurt. Also, you do not have to use a non-caloric sweetener. 1 Tbsp of honey will add an extra 64 calories, while 1 tsp of sugar adds an extra 15 calories.