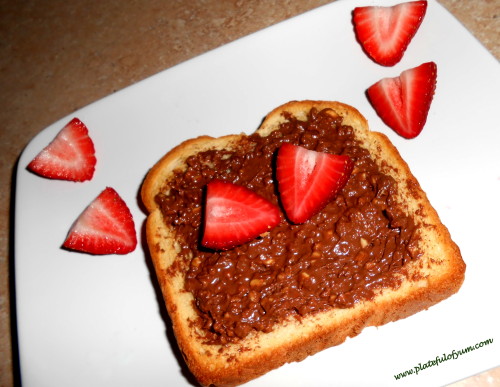 All you require for this ridiculously simple recipe are peanuts, chocolate chips and a microwave.
Servings: 20, Serving Size: 1 tsp
Calories:  56.0, Protein: 0.95 g, Carbohydrate: 5.70 g, Fat: 3.40 g, Calcium: 20.0 mg, Potassium: 39.0mg, Sodium: 6.0 mg, Sugar: 4.85 g
Ingredients:
1/3 cup dry roasted peanuts, unsalted
3/4 cup milk chocolate chips
Directions:
Place the chocolate chips in a microwavable bowl. Microwave for 30 seconds.
Remove from microwave and stir with a spoon. Place in the microwave for another 30 seconds. Mix with a spoon to smooth the chocolate out.Microwave for a few more seconds if all the chocolate is not thoroughly melted.
 Next, add the crushed peanuts and mix into the melted chocolate.  Note, if you have whole peanuts, spread on parchment paper, fold the parchment paper over, and use a rolling-pin, bottle or cup, to crush the peanuts.
Spread over your favorite toast, or crepe, then store in an air tight container at room temperature.
If you keep it in the fridge, it will solidify. You can always reheat it anyway but it's best to leave it at room temperature.