Cooking is one of my favorite past times. I find it therapeutic, and it's a way by which I can share my love of tasty, yet nutritious foods with others. For those of you who may not have had a chance to browse through my 'services' page, you may not be aware that I offer cooking classes and meal prep sessions. These can be conducted in the comfort of your home, or at other pre-determined locations. This is perfect for you if 1) you want to learn how to cook healthier meals for you or your family. 2) If you don't really have the time, but would like the assurance and the guarantee of a balanced meal. 3) Would like to have a cooking party for you and your friends 4) Are looking for a unique team building exercise as part of your organization's wellness program. Whatever the case may be, I have the right meal selections for you, while  taking into consideration your nutritional needs.
I also offer cooking classes in the community, and you can visit my calendar to find our more about upcoming cooking classes and events. I recently had a cooking class at Ever'mans and it was fabulous. The theme of the class was 'Groovy Grains'. I focused on a variety of whole grains (which are heart healthy) and how they can be incorporated into everyday meals. We made some yummy barley soup and some of my soon to be famous oatmeal granola bars (recipe here).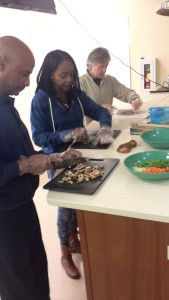 Everyone learned a lot. It was extremely engaging, and a good time was had by all. 
I have another upcoming community cooking class that I am thrilled about. Once again, it will take place at Ever'mans Cooperative Grocery and Cafe. The theme of this class is 'Eat the Rainbow'.Come and  learn how you can tap into the power of food as medicine by consuming a rainbow of colors to boost your health.
Hope to see you there!