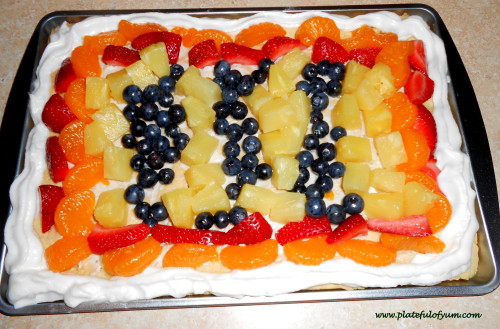 Servings: 12, Serving Size: 1 square
Calories:  250.4, Protein: 3.48 g, Carbohydrate: 37.0 g, Fat: 8.85 g, Sugar: 17.9 g
Ingredients: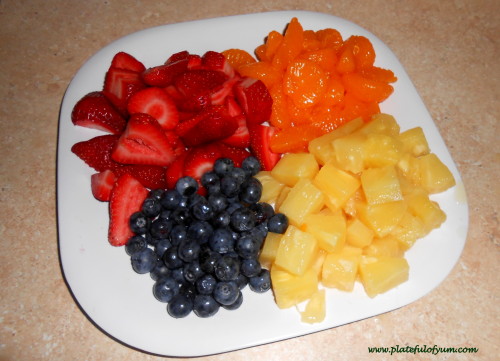 2 ¼ cups all purpose flour
1 tsp baking soda
½ tsp baking powder
½ cup butter, softened
1 egg
2 tbsp vanilla extract
¾ cup white sugar
2/3 cup blueberries
1 cup strawberries, chopped
1 ½ cup mandarin oranges
1 ½ cup pineapples
1/3 cup honey nut flavored cream cheese (or regular cream cheese)
Whipped cream (optional)
Directions:
Preheat oven to 400 degrees F
Combine flour, baking powder and baking soda in a bowl.
In another large bowl, cream sugar and butter together. Add in the vanilla extract and the egg. Mix together.
Add the creamed sugar mixture a bit at a time to the flour. Mix together with a spatula, until thoroughly combined to form the dough (the resulting texture will be almost similar to that of pizza dough).
 Press the dough into a cookie pan or sheet cake pan.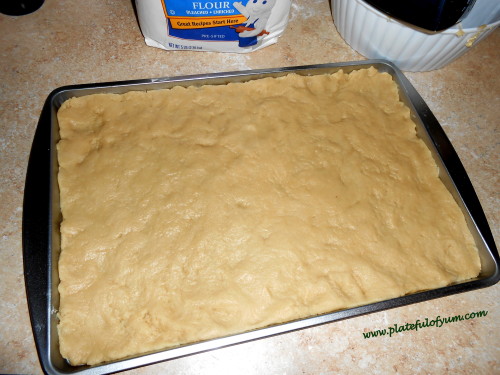 Bake in the oven for 15 minutes. The dough should be cooked and golden brown, but not too crisp.
Let the dough cool completely before adding the toppings. What you get is a delicious cookie-cake like base. Spread the cream cheese over the dough before topping with fruit.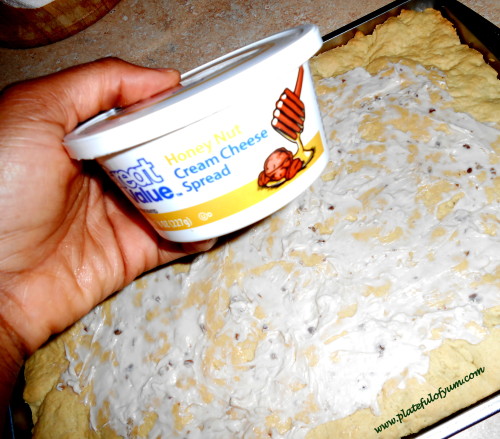 You can make any design or patterns you like. This is totally optional but you can spray whipped cream on the outer edges of the fruit pizza to jazz it up a bit.
Use a pizza slice to divide the dough into 4 columns by 3 rows, resulting in 12 pieces. 
This is a sweet, but not too sweet treat. It's perfect for brunch, or even the occasional indulgent breakfast.  You can use your own fruit combinations or flavored cream cheese combinations to keep things interesting.