This no cook oatmeal recipe is to be made the night before, so it is perfect for days on the go. It is quite nutritious, and packed with a heaping of fiber.
Servings: 1
Calories: 369.4, Protein: 13.7 g, Carbohydrate: 59.5 g, Fat: 11.0 g, Fiber: 8.00 g
Ingredients: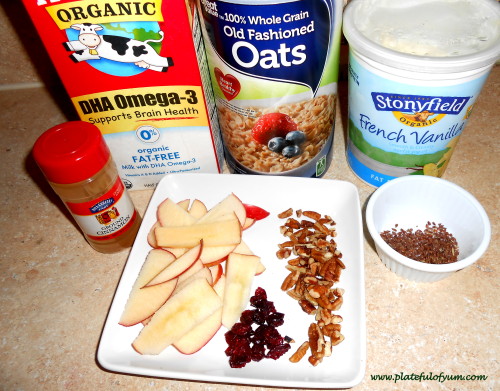 1/3 cup uncooked old-fashioned oats
1/4 cup fat-free vanilla Greek yogurt
2/3 cup organic skim milk
1 tsp flax-seed
1 small gala apple, sliced
1 tbsp dried cranberries
1 ½ tbsp pecans, chopped
½ tsp cinnamon, ground
Directions:
In a canister or a jar, pour in the oats, add in the rest of the ingredients (add in the milk last).
Mix the ingredients together with a spoon and cover the canister with an air tight lid.
Refrigerate overnight or up to 7 hours.
This is typically eaten chilled. However, you can zap in the microwave if you'd prefer to eat it warm.