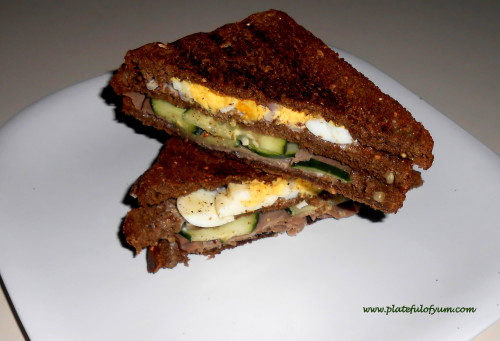 Using rye bread for this sandwich instead of white bread packs in some extra fiber. Not to mention it has a unique taste that compliments the ingredients in the sandwich.
Yield: 1 sandwich
Calories: 363.5, Protein: 22 g, Carbohydrate: 37 g, Fat: 14.5 g, Fiber: 4.1 g,  Sodium: 107 mg
Ingredients:
2 slices rye bread (toasted)
1 boiled egg (cut in slices)
2 slices deli sliced roast beef
¼ cup cucumber
Black pepper and salt to taste
1 tbsp light mayonnaise
Directions:
Spread mayonnaise on each slice of the toasted bread, then top with a layer of roast beef and cucumber slices. Place the eggs on the roast beef and season with salt and pepper to taste. Finish with second slice of bread and cut in half.