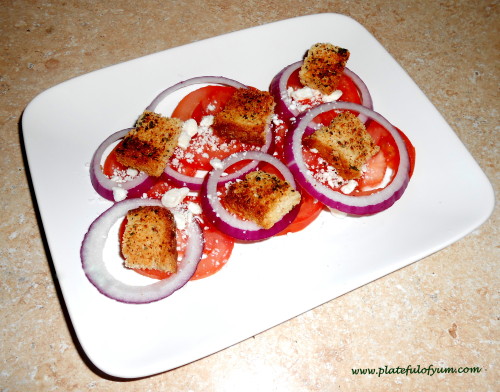 These go perfectly with soups or salads.
Calories: 45.8, Protein: 2.43 g, Carbohydrate: 9.29 g, Fat: 0.79 g
Servings: 12 Serving Size: 6 croutons
Ingredients: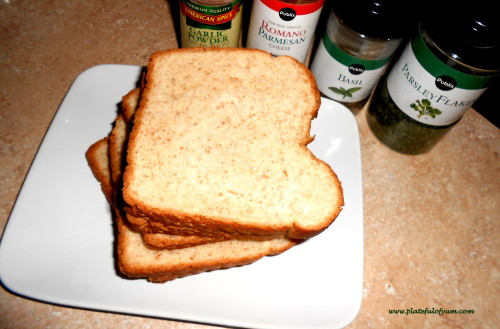 6 slices whole grain bread
2 Tbsp Parmesan Romano cheese
1 tsp garlic powder
1 tsp basil
1 tsp parsley
Cooking spray
Directions:
Pre-heat oven to 375 Degrees F.
Cut each slice of bread 4 by 3 producing 12 squares for each slice of bread.
Spray a baking pan or dish lightly with cooking spray.
Put the bread pieces in the pan, and coat on both sides with cooking spray.
Combine parmesan cheese, garlic, basil and parsley flakes in a small bowl.  Pour over the bread, and toss, so that the bread pieces are coated with the herb mixture on each side.
Spray another coat of cooking spray, and then bake in the oven for 10 -12 minutes or until crisp.
Serve with a salad or soup. Store left over croutons in a Ziploc bag for later use.