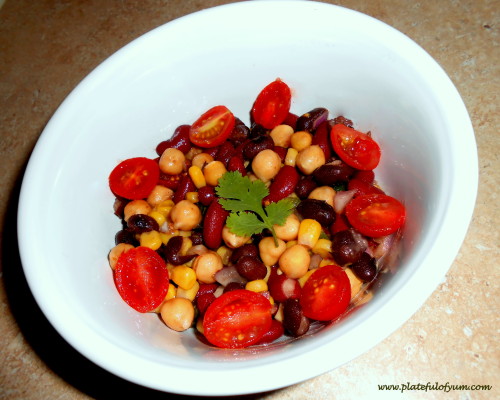 Servings: 16, Serving Size: 1/2 cup
Calories: 70.6, Protein: 3.66 g, Carbohydrate: 13.8 g, Fat: 0.79 g, Sodium: 163.7 mg, Fiber: 3.92 g
Ingredients:
2 cup black beans
2 cups garbanzo beans (chickpeas)
1 cup kidney beans
½ cup sweet corn
2/3 cup cherry tomato, halved
1/4 cup red onion, chopped
½ tsp paprika
¼ tsp cumin
1 lime, juiced
Directions:
In a large bowl, combine the beans, sweet corn, onions and tomatoes.
Next, add in the paprika, cumin and lime juice. Mix gently into the salad, making sure not to mash.
Once thoroughly mixed, refrigerate until chilled before serving.
Garnish with cilantro.