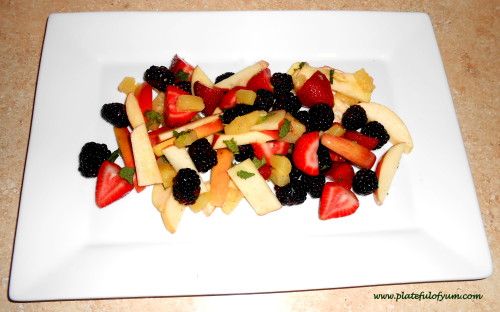 You can truly make this recipe your own by adding your own combination of fruits, and even nuts. However, the lime juice and mint leaves are the key ingredients to its unique taste so make sure not to leave those ingredients out. Also adding the lime juice lowers the acidity of fruits such as apples and banana, slowing the rate of enzymatic browning (browning due to exposure to oxygen when cut) meaning they keep longer, and also look prettier.
Servings: 8, Serving Size: ½ cup
Calories: 40.5, Protein: 0.65 g, Carbohydrate: 10.1 g, Fat: 0.25 g, Potassium: 121.8 mg,Fiber: 2.76 g, Sugar: 6.67 g
Ingredients:
2 Gala apples, chopped
1 ½ cup blackberries
1 cup strawberries, halved
½ cup pineapple, chopped
1 tbsp lime juice
4 mint leaves, finely chopped
Directions:
Combine all the ingredients together in a bowl.
Cover the bowl and refrigerate for at least 30 minutes.
Serve chilled.