Satisfy your stomach in a way that will leave your heart feeling thankful this Thanksgiving.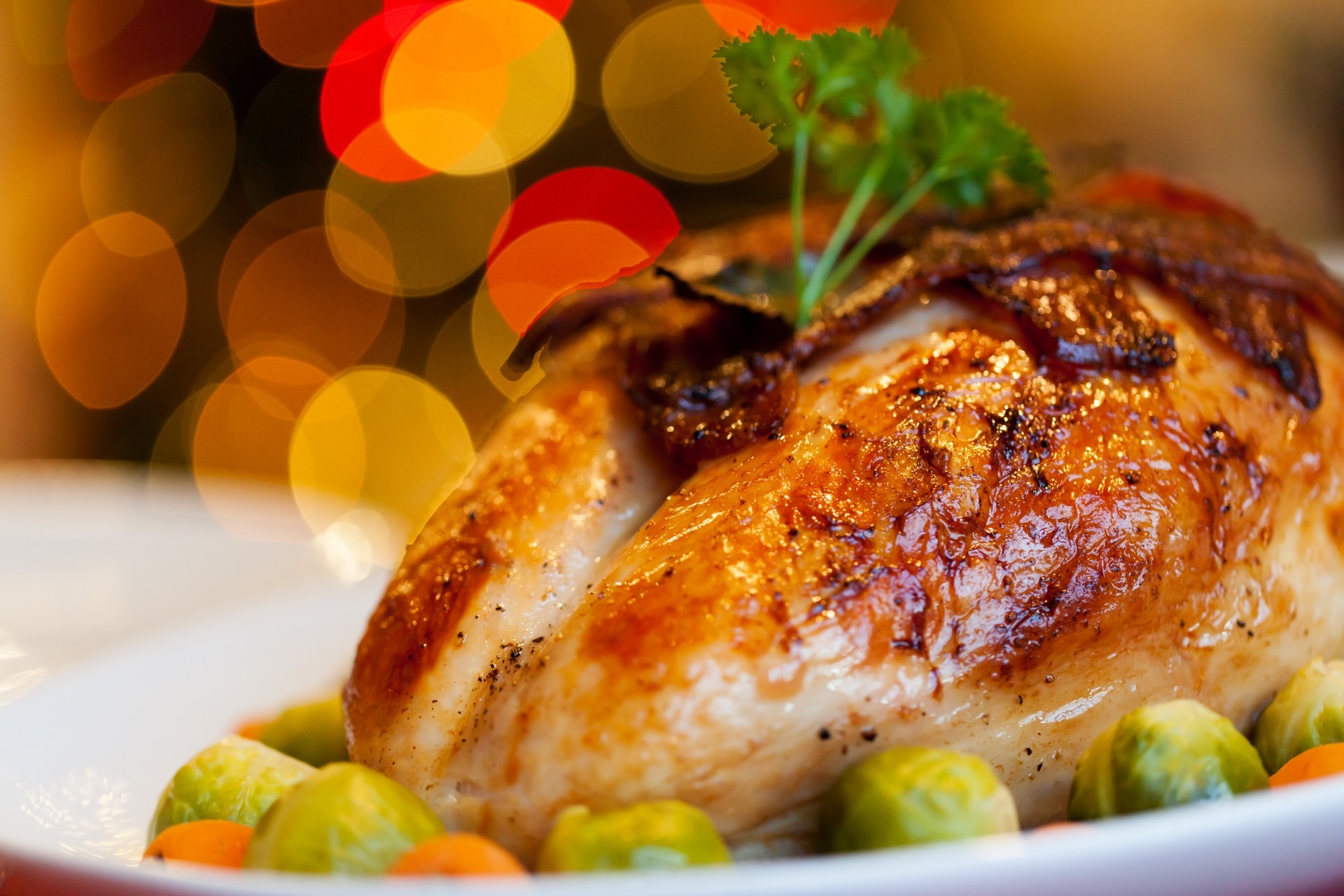 Can you really have both? Is it truly possible to enjoy all of your favorite holiday dishes and eat healthy simultaneously? It may sound to good to be true, but there are plenty of ways that you can treat yourself to what you love, without reaping all the negative consequences. How well does the New Year's diet resolution plan that you use every year as an excuse to splurge during the holiday season really work anyways?
For most of us, if we are honest, the half-hearted resolutions are not really that motivating, and it might be time to try to start adjusting our viewpoint. Instead of sporadic dieting, what if we adopted a new way of looking at food? What if we had a way to include our favorite foods in a healthy meal pattern that we could maintain throughout the year? No more guilt-ridden holidays!
So let's take a look at some "food for thought"  that will help you to make this Thanksgiving season, one in which your stomach and your heart will both leave the table feeling content.Some of these simple changes that you can make, that will have a big impact on your health, have more to do with how you eat, rather than what you are actually eating. Try these tips at your next holiday gathering OR how 'bout every time you eat!
Revise portion size – We gain weight when the number of calories we consume is greater than the number we expend, not necessarily based on the foods we eat. While this is not an excuse to constantly eat junk, it does help us to remember than moderation is the key. Typically in the United States, the portion sizes we eat are generally 2 – 3 times the recommended amount, so try cutting back just a little bit. Have one spoonful of sweet potato casserole rather than 2 heaping spoonfuls and then going back for seconds. (Or maybe, if you need to start smaller, simply choose not to go back for seconds.) Another trick to cutting back can be to use a smaller plate. Try using a 9-inch plate and filling one half with vegetables, and then have your carbohydrate and protein rich dishes on the other side. This will help keep your food group choices in better balance, too.
Listen to your body – Often times Thanksgiving is one of those days that we feel the need to stuff ourselves to bursting with all the delicious food that we only get to eat once a year! Sometimes, we starve ourselves all day to "make room" for the scrumptious afternoon feast. Both of these behaviors override our body's natural signals of hunger and fullness, which ultimately leads to overeating and can disrupt our body's normal metabolism. This Thanksgiving, try to listen to your body and ask yourself: Am I eating because I feel hungry or just because it tastes so good? Also, rest for at least 20 minutes before going back for seconds, as this will allow your brain to catch up with your mouth and begin registering feelings of fullness. This will keep you from leaving the table feeling like a stuffed pig. And remember, there are almost always leftovers – so it likely won't be the last time this week that you have a taste of that delicious turkey dressing you've been waiting for all year.
 Savor, Savor, Savor – This thought goes along with the last point. As you listen to your body's hunger signals, take time to enjoy the food you are eating. Try to eat slowly, relishing each bite. While this may sound silly, you might be surprised when you are satisfied with much less.
 Food OR Family – Remember, it's not all about the food anyway. Whether you are celebrating the holiday with family, close friends or both, keep this in perspective. Ultimately, the holiday is about reflecting on the many blessings in our lives…like FOOD!! Oh wait, I meant…friends…and family. J Whatever your situation, don't forget to take time to be thankful.
 In addition to how you eat, you may be interested in trying to change what you eat, too. If so this next section is for you, complete with ideas for how to make each component of your thanksgiving dinner more nutritious and a few sample recipes to get you started.
Turkey – When it comes to the main event, your Thanksgiving turkey, one of the easiest ways to cut back on calories and fat is to simply take off the skin before you eat it. The other calorie culprit here is the gravy, so try a low-fat version by skimming off the fat from the drippings before you make it. This way you can maintain the mouthwatering flavor, without the added fat.
Stuffing – No stuffing recipe is the same, so convincing you to give up Grandma's recipe may be more hardship than it's worth. However, there are a few quick tricks that you can use to beef up your favorite recipe. First, try adding extra vegetables, and be adventurous. Onions and celery are a great place to start, but what about some colorful peppers? Second, see what kind of grains your recipe uses. Could you substitute half the amount with a whole grain like quinoa? The skies the limit here, so get your creative juices flowing!
Fruit – Fruit is another item that tends to be doused in sugar during the holiday season. Try cutting the sugar in your fruit recipes by one third, or try honey or agave as a sugar substitute. This natural sweetener is more potent, so you can use less without loosing the sweet flavor.
Dessert – Just about everyone's favorite part of the Thanksgiving meal is dessert, but oh, the choices you have to make…pecan or pumpkin…or both? Did you know that pecan pie has nearly 200 more calories per serving than pumpkin pie? That's not to say that you can't have it, but for those of us who like them equally, it might make you reconsider your choice. Here, the key is definitely moderation. You don't have to deprive yourself, just have a small piece and savor it. Another way to cut down on unnecessary calories is to choose a light whip cream instead of full fat, or just skip it all together.
Hopefully these tips have shown you how you can still enjoy all of your holiday favorites without the added cost to your health. Remember that each change you make will have you one step closer to a healthier Thanksgiving and a healthier you!
Written by: Rachel Harrod, Dietetic Intern