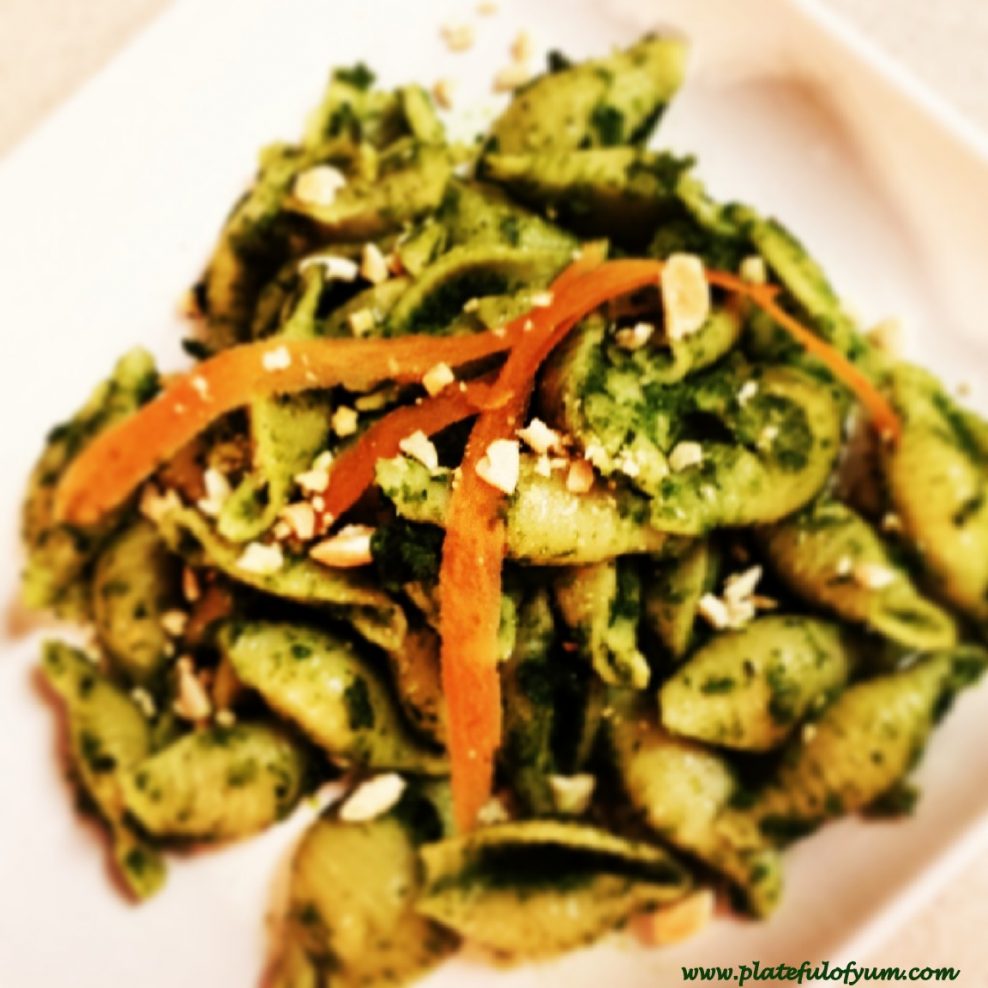 I am currently obsessed with Kale, and no I am not just discovering it. I just happen to be falling in love with it over again. Kale is gaining a lot of popularity as of late and I am not surprised.  Not only is it versatile (you can add to soup, salads, smoothies, and eat raw). It is also very flavorful, and rich in antioxidants and phytonutrients.  I have been incorporating Kale into quite a bit of my recipes and once again, it is the star of the show today. This recipe is really, really stupid, ridiculous, simple. The great part about it is that it is also vegan/vegetarian friendly and perfect for meatless Mondays or what have you. I hope you enjoy this dish as much as I do. Be warned though, it packs a mighty flavorful punch.
Servings: 5 cup, Serving Size: 3/4 cup
Calories:  205, Protein: 5.51 g, Carbohydrate: 20.5 g, Fat: 12.21 g, Fiber: 1.0 g
Ingredients:
2 ½ cup dry pasta of choice
2 large garlic cloves
¼ cup peanuts, unsalted
3 tbsp olive oil (extra virgin)
2 cups of Kale, chopped
2 tsp parsley flakes
 Directions:
Cook pasta on medium high heat, according to directions on package. When pasta is almost al dente, remove from heat and set aside.
In a food processor, combine the remaining ingredients until a pasty consistency is achieved (You may need to add a tsp or 2 of water to get the right texture).
Add pesto to pasta and mix well until thoroughly combined.  Place pot back on the stove on low medium heat for 5-7 minutes, so that the pasta becomes fully immersed in the flavors of the pesto. Serve warm.
Tips: Add salt to taste, garnish with peanuts, or add a tsp of lemon juice for an extra zing. Use whole grain pasta to get in some extra fiber.