Dietitian Staffing and Recruitment Services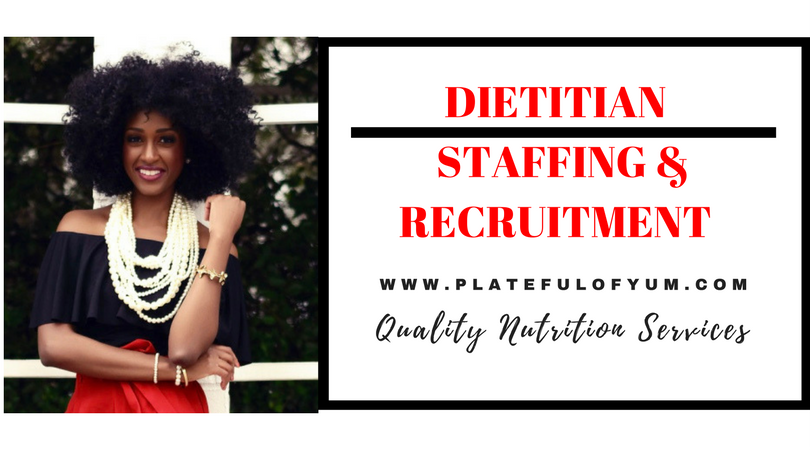 At Plateful of Yum we know that a qualified Dietitian Staffing is integral to the success of a clinical treatment team. Our specialty is in the recruitment and retention of Dietitians and nutrition professionals for direct hire, temporary, and consulting positions. We stand out from other recruitment and staffing companies, as we are Dietitian owned, and have insight on where to find the best and brightest talent to fulfill your staffing needs. We have an arsenal of highly skilled Dietitians, experienced in different facets of nutrition care such as clinical nutrition, pediatric nutrition, renal nutrition and geriatric nutrition. Regardless of the uniqueness of your organization's needs, we will be able to match you with the right Dietitian. Our client's staffing needs are filled in as little as 14 days, with a 100% of recruitment completed within 30 days.
Our standard pre-screening includes:
Registered Dietitian credential verification
State licensure verification when applicable
Clinical competency assessment
Reference checks
Screening interview
Additional screenings may be provided as needed or upon request.
You can expect the following from our Dietitians:
Experienced and highly efficient Registered & Licensed Dietitians
Best practice standards of care for nutrition and food services
Improved patient outcomes
Thorough assessments, clinical nutrition and dietary compliance audits
Continuous coverage for vacations, holiday, weekend relief and other absences
Staff training and development programs for dietary and clinical personnel
Fill out this consulting request form https://platefulofyum.com/nutrition-consulting/ or call us today at 850-972-8322. Let us provide you with a competent, highly skilled dietitian to improve the clinical outcomes of your facility.