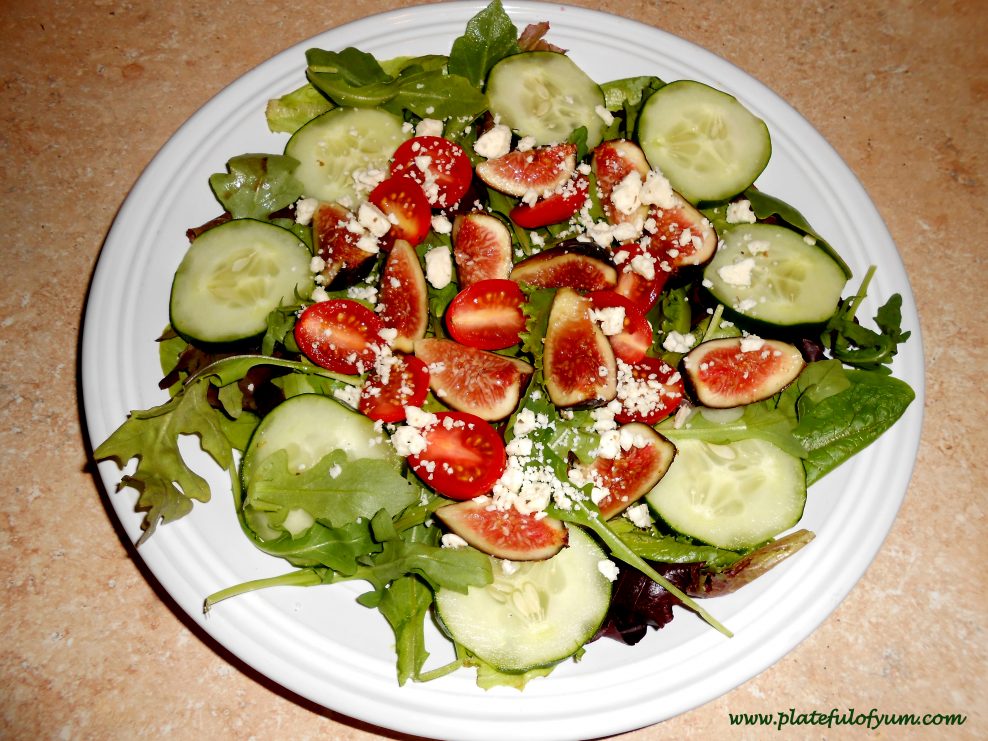 Channel your inner gourmet chef with this fig salad.  Even though dried figs are available year round, there is nothing quite like the deliciously honeyed taste of fresh figs.  They are in season from June through the early fall.
Simple toppings like figs are what make salads 'un-boring', unique, curiously inviting, and definitely extra special.
Servings: 1
Calories:  182, Protein: 5.48 g, Carbohydrate: 36.2 g, Fat: 3.76 g, Fiber: 7.63 g
Ingredients
8 cucumber slices, sliced about 1 inch wide
2/3 cup fresh brown figs, halved (you may use green figs if you wish)
2 cups baby romaine lettuce mix
½ cup baby arugula
6 grape tomatoes, halved (cherry tomatoes work just fine)
1 tbsp garlic and herb crumbled feta
Directions:
Layer romaine lettuce and arugula on a plate. Top with cucumber, tomatoes and figs. Sprinkle feta cheese on top.
The salad would go perfectly with raspberry vinaigrette dressing.  It can also be eaten as is without dressing (which I prefer).
Enjoy!